The Walnut Creek Chamber of Commerce believes that our elected officials need to lead the charge in implementing an aggressive plan to improve our economy. Fewer jobs and lower quality public services are not a recipe for improving the quality of life for the citizens of California. That is why the Walnut Creek Chamber sponsors the East Bay Jobs Political Action Committee (PAC), which is focused on supporting candidates and ballot issues that stand for job creation, business investment, and fiscal solvency.
The East Bay Jobs PAC works to improve our business climate, create new jobs, expand the tax base, and
promote fiscal responsibility. This is accomplished by the PAC focusing efforts in the following areas:
Direct candidate support

Businesses cannot afford to let competing special interests dominate politics in our region. The East Bay Jobs PAC provides endorsements and direct financial support to candidates who are committed to improving the business climate, promoting job creation, and finding solutions by collaborating with all stakeholders.

Voter education

The East Bay Jobs PAC directly educates voters about the positions candidates take on issues affecting our economy and quality of life. This includes providing voting records and other information to voters via mail, phone, email, or in person prior to an election.

Ballot initiatives

The East Bay Jobs PAC plays an active role in local and state ballot initiative campaigns.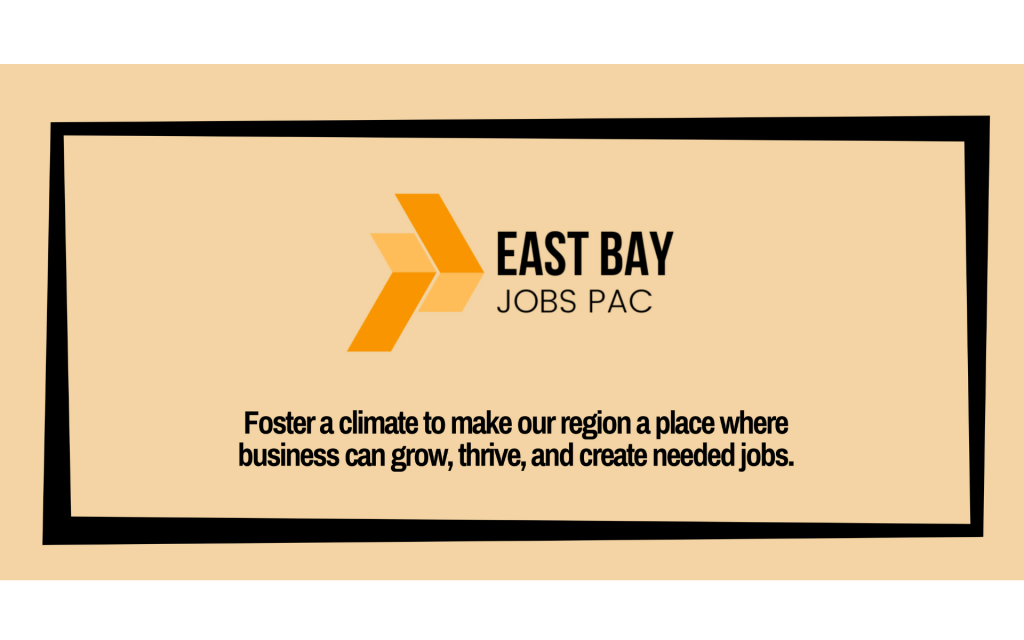 Tim Argenti, Republic Services
Matthew Guichard, Guichard, Teng, Portillo & Garrett
Heather Schiffman, Contra Costa Association of Realtors
Angela De La Housaye, D/L/H/A Law
Scott Gordon, Attorney
Sarah Yoell, PG&E
Judy Lloyd, Danville Chamber of Commerce
Audrey Gee, Brown, Gee & Wenger
Bob Linscheid, Walnut Creek Chamber of Commerce
Matt Orcutt, East Bay Leadership Council